'Aelflaed' - necklace with lampwork beads, garnet and rock crystal - One of a kind
---
'Aelflaed' - necklace with lampwork beads, garnet and rock crystal - One of a kind
£195.00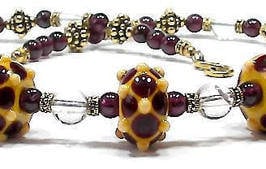 'Aelflaed' means 'elf beauty', which describes this Anglo-Saxon inspired necklace with specially designed lampwork beads that reflect the richness of the gold and garnet work found in many Anglo-Saxon works.



The necklace is made of these special beads, accented with rich garnet and rock crystal beads which were favourites of the Anglo-Saxon nobility. The accent beads and clasp are beautifully cast pewter that has been gold-plated.
This is a one of a kind piece, unique and original.

The necklace measures approximately 17.5 inches/44cm.