Simple polychrome eye beads
---
Simple polychrome eye beads
£3.00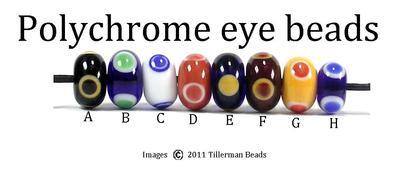 Simple eye beads are common to all time periods, these glass reproduction beads are in a style that is now generally called an 'evil eye' bead, especially by people who have visited the Mediterranean and come home with at least one eye bead as a souvenir. They were believed to have amuletic powers.
Eye beads date to the earliest times, the Phoenicians created elaborate eye beads as well as charming bearded head beads. The colour combinations are endless, the glass reproductions of beads shown here are a few of the variations that have been discovered in burials. Other styles of eye bead are also available in the shop.
The beads are made on a 2.2mm mandrel, which gives an inner diameter of approximately 3mm. Please select a style and colour below.
Save