Polychrome 'Wave' beads
---
Polychrome 'Wave' beads
£3.00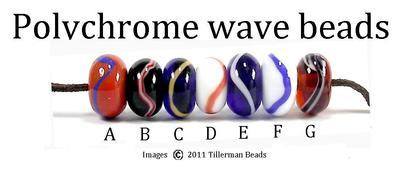 Classic, simple 'wave' beads. These are a common style in every time period.

The beads measure approximately 8 x 12mm and have holes that are approximately 3mm in diameter.
These glass reproduction beads are available individually for £3 per bead, or in sets of five beads of one type or a random mix for £12 for a set of five beads.
Beads with a simple wave pattern are common to most times and places, if you have a question about which colour combinations are appropriate for a particular time or place please feel free to ask us a question about them.
Save
Save