Sword bead in 'Amber' glass - Petersfinger Grave 21, WILTS
---
Sword bead in 'Amber' glass - Petersfinger Grave 21, WILTS
£7.00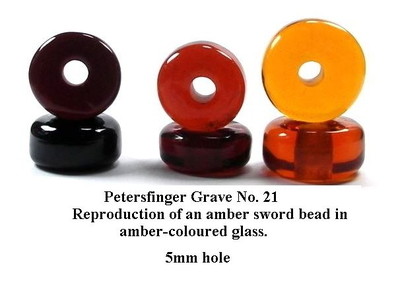 Based on a find from the Petersfinger graves, this glass bead is a reproduction of the original 'sword' bead made of amber. The original colour of the amber is difficult to discern from the example, so I have created examples similar to the original in three shades of amber-coloured glass.

The beads measure approximately 21mm in diameter with a 5mm hole but each bead will vary as they are not intended to be exact copies of the original, rather they are beads of that style and shape reproduced in amber-coloured glass.

The image shows the three shades of glass beads available, the top bead of each set shows the glass with the light through it to show the true amber colour.
The bead was found with a ring sword and other grave goods associated with a male burial believed to be from the 5th century.