Double-handled amphoriskos - with decorative stopper
---
Double-handled amphoriskos - with decorative stopper
£14.00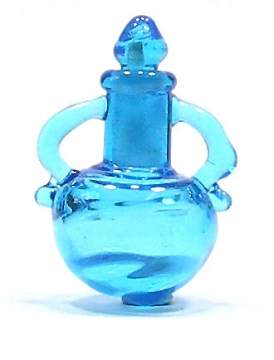 Beautiful little amphoriskos, the Greek for 'little amphorae', these petite bottles come with a decorative stopper. If you wish to use it for essential oils, we recommend using beeswax to create a seal between bottle and glass stopper.

Each amphoriskos is handmade and will vary slightly in shape and size, but they measure approximately 40-45mm in height including the decorative stopper and will hold from approximately 2 to 4ml.

These amphoriskos are available in two shades of amber glass, cobalt blue, two shades of amethyst glass and a rich emerald green transparent glass. Please select your colour choice below.

The photographs show a sampling of bottles with and without the decorative stopper. Each bottle is individually made so the shapes may vary slightly from what is shown in the image.