Sword Bead - Bishopstone - Anglo-Saxon, BUCKS
---
Sword Bead - Bishopstone - Anglo-Saxon, BUCKS
£15.00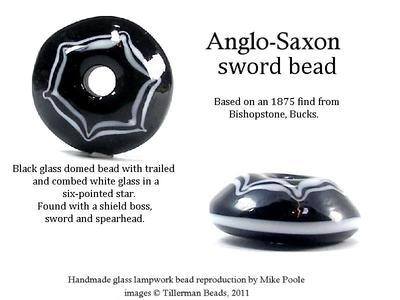 Based on a find description of an Anglo-Saxon grave discovered in 1879 in Buckinghamshire, this domed bead was found in a male grave, and may have amuletic properties as many male graves are found to only have one major bead which is often associated with the sword. This is a substantial bead, which must have held great significance for the owner.

This bead has been described as being discovered under the shield boss between the thigh bones of the skeleton, so it may have not been associated directly with the sword and may have another purpose which will never be determined.

Measuring approximately 33mm in diameter, 15mm high with a 5mm hole, this reproduction of the original bead is made from black glass trailed in white and then combed into an intricate pattern of six points.